Catwoman: Soulstealer came to me when I fell ill last week. I went into a reading spree then, and read lots of books as I lay in the bed recovering from the illness.
I chose this book only because of Sarah J Maas. To be honest, I am more of a Marvel fan than DC Comics. I do not know much about the superheroes or the villains of DC Comics except their names and basic tidbits. So, I went into this book with no impressions whatsoever. (Before this book, I had only seen the movie 'Catwoman' starring Halle Berry. Trust me; you would not like to know what I think of that movie. I will keep my mouth shut on that one.)
I have loved reading many books of Sarah J Maas and I trust her writing style. Did this book help in strengthening my trust or crumbling it? Read further in my review:
WARNING: SPOILERS AHEAD. IF YOU HAVEN'T READ THE BOOK TILL NOW… READ FURTHER AT YOUR OWN RISK 🙂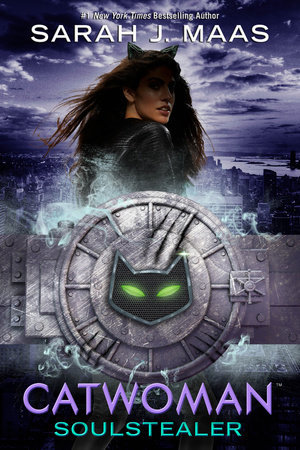 Title: Catwoman: Soulstealer
Author: Sarah J Maas
Genre: Young Adult / Comics>SuperHeroes
Series: DC Icons
When the Bat's away, the Cat will play. It's time to see how many lives this cat really has. . . .
Two years after escaping Gotham City's slums, Selina Kyle returns as the mysterious and wealthy Holly Vanderhees. She quickly discovers that with Batman off on a vital mission, Batwing is left to hold back the tide of notorious criminals. Gotham City is ripe for the taking.
Meanwhile, Luke Fox wants to prove he has what it takes to help people in his role as Batwing. He targets a new thief on the prowl who seems cleverer than most. She has teamed up with Poison Ivy and Harley Quinn, and together they are wreaking havoc. This Catwoman may be Batwing's undoing.
The series- DC Icons piqued my interest when I came to know the names of the authors involved in writing the books. As I had said before, Catwoman: Soulstealer was my first choice because of the familiarity with Sarah J Maas's writing style. But, I was left with mixed feelings after reading the book.
PROS:
GOTHAM CITY
I liked the Gotham City etched by Maas in this book. The high rooftops and dark alleys; the filthy rich brutes and the struggling lives of poor; the dangerous criminals and slow-moving police were so aptly described. I could feel that heaviness in the air of being in a city where there is such a wide gap between the various classes of society; where the systems made for people are slow and corrupted. All these conditions justified the character of Selena for what she was.
PACE
The story had a good pace and in spite of some flaws didn't slag anywhere. New sub plots and various action scenes kept appearing at regular intervals, which kept the boredom at bay.
Sarah J Maas can engage her readers with the very first line. In spite of a predictable story line of good winning over the evil she succeeded in making me turn the pages of the book to know what happens further in the story.
FAVORITE
Poison Ivy was my favorite character here. I liked her character sketch, her personality traits. She was dangerous yet had a vulnerable side. She was mature, sensible and helpful. Even when she broke the law there was a reason for it and she was very clear about her goals. Yes she was in a relationship which didn't do her any good but she eventually showed strength to step up. Compared to other characters, I connected with her better. 
CONS:
The story was not boring but it was definitely having things which nagged me… a lot!!
SAME NAME… ALMOST
The first thing which struck me was the name of the protagonist. It is very similar to the protagonist of her first famous fantasy series –'Throne of Glass'. Was Catwoman an inspiration for the author to name her protagonist Celaena in her fantasy series?
WHAT HAPPENED TO SISTERLY LOVE??
The reason Selina ended up as Catwoman, was her sister. To take care of her sister's deteriorating health, she chooses the path of being fighter eventually ending up as Catwoman. However, when she is back to her hometown there is not a single mention about her sister. It is always told in the flashback. The amount of emotions thrown into the scenes between the sisters, at the beginning of the story, doesn't allow me to accept that Selina would have not sought out her sister when she came back. As a reader, I could guess that all this was for the climax and I was so right. It was very obvious and lame.
WEAK BATWING
The characters of this story did not appeal to me so much, except Poison Ivy. Somehow, I couldn't connect with them. I do not mind whether the characters are flawed or flawless. The only thing required is that they are believable. Luke Fox was one character which felt wrong through and through. Even if I could ignore the other ones in the story, it was hard to look away from the weaknesses displayed by Batwing's character.
Beginning from his awkward name of Batwing to his continuous failed attempts to catch Catwoman – nothing felt likeable to me. Not even once did he outshine Catwoman. I mean, he is next to Batman in Gotham City; the city depends on him… yet he is just left standing when it comes to Catwoman.

On top of it, there were the side effects of his past trauma. I understand that there are some scars which can never be erased but when you decide to become a protector; first thing is that you need to be mentally strong. As much as I wanted to sympathize with him for the things which he suffered in his life, my logical mind just kept nagging that he should have entered the arena of taking care of Gotham City when he was completely healed.

In addition to this, his continuous refusal to receive help from Batman made him look arrogant in my eyes. Maybe I am wrong and have come out with very strong emotions against Batwing but denying to take help when things are going out of control doesn't seem a brilliant idea to me. I do understand that Batman couldn't make an appearance in this story but then Batwing also was showing no promising moves. This particular piece of story could be dealt in a better way. In my opinion, it made a dent on Batwing's character. 
HURRIED CLIMAX
The climax was very quick one compared to the pace of the story. From Catwoman's capture till the time everything is settled – the events felt rushed. There is no glitch when Selina needs to escape. The laid back police are suddenly on their toes and reach the required place on time. One phone call and help is on the way. Catwoman gets successful in her goal. Everything happens one after another, in a jiffy which gives a rushed feeling. Explanation of things is so brief that it feels so empty… almost without emotions.
This book by Sarah J Maas left me confused and conflicted. The writing style, descriptions, the pace was good but the content of the story felt wrong in many places. Being a huge fan of her 'Throne of Glass' series, it breaks my heart to say that the Catwoman by Sarah J Maas, is just a one-time read.
Grab your copies now